Local Law Society Bulletin        15 December 2021
Dear Colleagues 
In the third edition of our digital bulletin prepared exclusively for local law societies' senior stakeholders, we draw your attention to the issue of the future of SIF/PSYROC. As you may know, our position is that protection should be maintained. For a fact sheet and further information about the issues following our latest virtual townhall with local law societies earlier this month, please visit
https://www.lawsociety.org.uk/topics/professional-indemnity-insurance/closure-of-sif#whats-happening
. You are welcome to share the entire contents of this and future bulletins via your websites and e-newsletters. The information we share is aimed to support you and our members in common with timely summaries and links to resources. 
Three things I am personally looking forward to in 2022:
Developing and launching the digital community for local law societies' office holders and committee members. You may recognise that this forms part of our 7 commitments. The digital community is aimed at facilitating communications and increasing engagement amongst local law societies themselves and with the national law society.
Presidents' and Secretaries' virtual conference on 14 July 2022.
In-person regional and Wales visits with the President. In the first three months of the new year we have made plans (covid permitting) on visiting members in Wales, Midlands, Yorkshire, South and Southwest. We'll be regularly travelling during the rest of the year too. We'll be delighted to see you. Please don't hesitate to be in touch.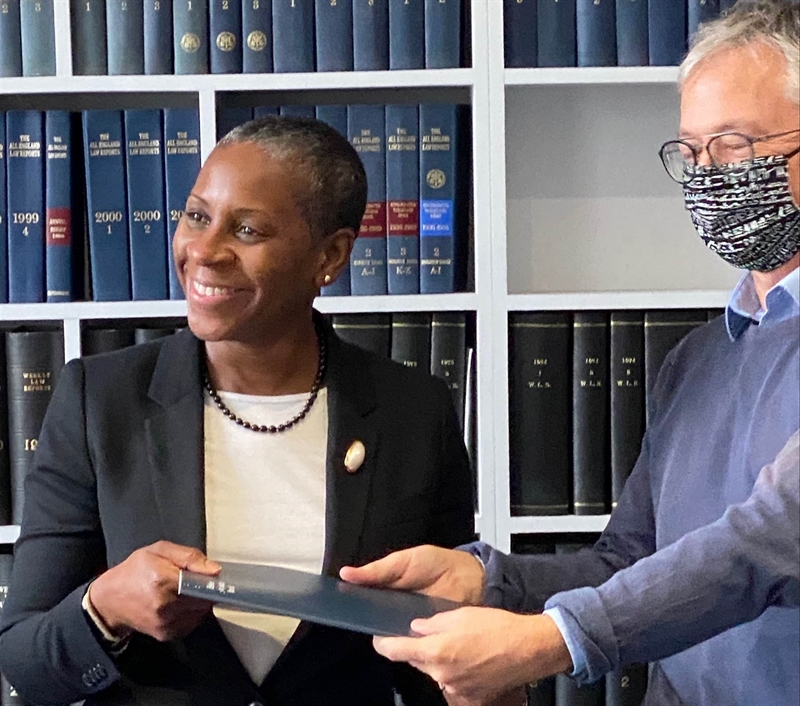 I. Stephanie Boyce, President, Law Society of England and Wales visiting Wilson Solicitors in Tottenham in December 2021
Many thanks 
Valeria Mancheva
Head of Member Engagement and Services
How we are helping society's most vulnerable access justice over the next 12 months

The national law society is focused on influencing the government to expand access to justice. Here, our head of justice Richard Miller discusses our plans to fight for improvements to the legal aid system over the next 12 months. 
---
Introducing our new interim chief executive
Gerry Walsh has been appointed as the new interim chief executive officer (CEO) of the Law Society of England and Wales.
Chief executive Paul Tennant will be leaving the organisation at the end of the year to take up a new role as chief executive of the Abbeyfield Society.
---
Proposal for housing legal advice a step in the right direction

Tenants facing repossession proceedings – and potential homelessness – could be in line for enhanced legal support under new proposals by the Ministry of Justice. Under the Housing Loss Prevention Advice Scheme (HLPAS), which replaces the Housing Possession Court Duty Scheme, non-means tested legal advice would be available to those facing repossession of their homes. 


Is the general damages small claims track limit being increased?

The Ministry of Justice's (MoJ) plans to increase the general damages small claims track limit for employers' liability and public liability claims has been deferred until April 2022.
The proposed increase from the current limit of £1,000 has also been amended to £1,500 – a reduction from the initial proposal of £2,000.


Three trends that will shape law firms in 2022
Colin Bohanna, general manager at Clio, summarises important findings from Clio's Legal Trends Report. He also provides insight into issues that law firms should deal with over the next twelve months.


Gazette to become fully digital magazine

The Law Society Gazette will move online and become a fully digital magazine from January 2022. The final version of the print magazine will be published on 13 December. The digital magazine will continue from January 2022 and be delivered direct to your inbox each Friday. Visit the gazette website here. 
---
Joint initiative to introduce part-time training into the legal sector

A cross-firm scheme initiated by our Lawyers with Disabilities Division (LDD) is seeking to encourage more part-time qualifying opportunities to be offered as a matter of course in the legal sector. 'Project Rise' is supported by Aspiring Solicitors and has been created as a direct result of the findings in the Legally Disabled? – The career experiences of disabled people in the legal profession. Eversheds Sutherland and Osborne Clarke are participating in the project and have committed to offering all successful candidates the opportunity to train on a part-time basis, starting from their next recruitment intake in September 2024. 
---
LSB consultation on empowering consumers - Law Society Response

The Legal Services Board (LSB) consulted on a draft policy statement on empowering consumers which aims to support consumers to better understand and engage with the legal services market. The statement sets expectations for the Solicitors Regulation Authority (SRA) and other frontline regulators around:
information about price, quality, service, redress and regulation
public legal education, and
engagement with online reviews and price comparison sites.
---
HMCTS Safety Measures in light of the new variant
HMCTS have updated their guidance in light of Plan B which can be found by clicking the link above. 

Please also free free to consider and share our guidance and best practice for member safety in court and tribunal buildings. 
---
Reflecting on COP26: what were the key outcomes?
COP26 ended on Saturday 13 November after negotiations overran into the weekend. We've set out outcomes from the conference, its successes and shortcomings.
Consultation: Housing Legal Aid

The government is consulting on a proposed new model for the delivery of housing possession legal aid. This aims to ensure the sustainability of the service and to improve the breadth and quality of advice available for individuals facing the loss of their home. The consultation closes on 20 January 2022.
---
Urgent action needed to address legal aid crisis

Please share our press release, above, on the legal aid crisis.
---
Discover connections on Law Society Connect
Join hundreds of fellow small firms that are already on our free digital small law firms community. 
---
MY LS
Please sign up to My LS to access tailored news, resources, events and books; it's free!
Practice Note
Legal professional privilege
 - 
This practice note seeks to 
clarify the status of legal professional privilege, explain the main principles of LPP, summarise practitioners' duties and explore particular contexts in which the rights conferred by LPP are asserted. *MyLS registration is required to access*
Careers Clinic
Support for individual solicitors during CV19
 -  A link to our careers clinic and further support available to solicitors during the pandemic.
Training
Law Society Learning have released the 2021 update training courses for the Conveyancing Quality Scheme (CQS):
Risk, Compliance and Client Care
Conveyancing Practice 
A third new course, CQS Core Training: Protocol in Practice, is also now available for conveyancers who are new to CQS. See below:
CQS 2021 Update bundle (Conveyancing Practice & Risk, Compliance and Client Care)
CQS 2021 Update: Conveyancing Practice
CQS 2021 Update: Risk, Compliance and Client Care
CQS Core Training bundle (Financial Crime & Protocol in Practice)
Podcasts

Ask an ambassador: disability and social mobility
To mark Disability History Month, the fourth episode of our Ask an Ambassador podcast series is about the similarities, intersections and differences between social mobility and disability
Law Society Education Podcast: October 2021
In this month's podcast, host Eman Hassan speaks with Michael Doherty, who is a Professor of Law and Associate Head of School at the University of Lancaster, as well as one of the key advocates of Legal Design in the UK.
Sections
Paid subscribers can also access exclusive content and updates on law firms management, risk & compliance, property and private client law.