Local Law Society Bulletin               16 May 2022
Dear Colleagues
In this edition of the bulletin you can find out how to get involved in the national campaign to support the future of criminal legal aid, take part in the practising certificate fee and corporate plan consultation and shape the Diversity and Inclusion Framework we are preparing for members. You can also read about the latest in relation to our policy and influencing work on topics of interest such as the Solicitor Indemnity Fund and Judicial Review. The bulletin also provides a list of practical resources such as upcoming topical events, free recordings, guides and toolkits, and section membership which gives access to additional and exclusive content for private client and property solicitors as well as professionals in charge of risk and compliance and law firm management matters. Please also don't forget to sign up for the free online peer support forum for local law societies' office holders, committee members and staff. There are conversations happening on the forum which you may not want to miss. 
We would be very grateful if you could please encourage your members to update their details or sign up for free MyLS accounts. These give access to a range of benefits, including a tailored dashboard with information of interest and access to the small law firms online forum. The information also helps us in Council Elections such as where members can stand and/or vote for seats for which they are eligible. 
I want to thank very much our Council and Committee Members as well as Local Law Societies' Office Holders, Staff and Committee Members who were instrumental in planning and delivering the regional programme of in-person visits by our President and Vice President. Since lockdown came to an end in February, our Office Holders visited 15 different locations in the country and met with over 700 members via talks, roundtables, networking receptions and meetings.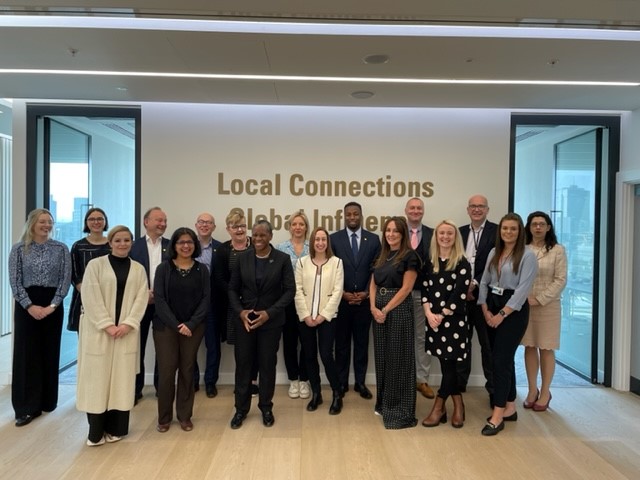 I look forward to seeing many of you on Wednesday at the virtual townhall meeting with local law societies' stakeholders hosted by our Office Holders.
Many thanks
Valeria
Valeria Mancheva
Head of Member Engagement and Services
This email address is being protected from spambots. You need JavaScript enabled to view it.
Consumers and firms to benefit as SRA reconsiders closure of SIF
After extensive lobbying from the Law Society and other stakeholders, the Solicitors Regulation Authority has announced it is deferring the closure of the Solicitors Indemnity Fund by 12 months, until September 2023. 
---
Westminster update: Law Society president gives evidence in parliament

Your weekly update from our public affairs team on all the latest developments and debates in parliament and across Whitehall:
Criminal legal aid: Law Society president gives evidence to MPs
Law Society quoted in parliamentary committee's report on the courts backlog
Judicial Review and Courts Act becomes law
Nationality and Borders Act becomes law
Royal assents




 
Read about the what the Queen's speech means for solicitors and the law 
here
.
---
Stronger than expected law firm performance during the pandemic
Solicitors maintained services to their clients through successive lockdowns and many reported solid business performance for the first year of the pandemic, according to the Law Society of England and Wales Law Management Section Financial Benchmarking Survey.
---
Law Society appointed to Domestic Advisory Group on UK-EU trade relations
The Law Society has successfully applied to join the Government's Domestic Advisory Group (DAG). The UK DAG will be the official forum to discuss trading relations, provide recommendations and engage with EU counterparts, as set out in Article 13 of the
Trade and Cooperation Agreement
. 
Membership of the DAG will provide us with further opportunities to make the profession's voice heard, exchange views and build coalitions with other sectors affected by Brexit. A list of other members is available
here
.
We will be highlighting priority issues for the profession including the request for more clarity on the mobility rules for solicitors travelling on business to the continent. 
---
Big win for rule of law: government retains judges' discretion in judicial review reform
The government made an important concession to protect the rights of individuals in the final stage of the Judicial Review and Courts Bill in Parliament, after sustained lobbying by the Law Society of England and Wales. 
---
Fixed recoverable costs in lower value clinical negligence claims – Law Society response

The Department of Health and Social Care is consulting on how fixed recoverable costs might be applied in clinical negligence claims valued up to £25,000. Click on the link above to see how The Law Society has responded.
 
---
Remote hearings
The coronavirus pandemic brought about a fast and widespread transition to remote hearings. We've been monitoring the changes, expanding our pre-pandemic work on the government's court reform programme. We have summarised where remote hearings are working well and not so well and our views, concerns and recommendations can be found here. HMCTS will be holding a webinar on 7 June to demonstrate the Video Hearings service where attendees will have the opportunity to ask questions of the HMCTS project team. More information and sign up here.
Practising certificate fee consultation and our new corporate strategy
How do you want us to support you over the next three years? We are working on ambitious plans to grow the ways we support and represent the solicitor profession and want to make sure our priorities and ambitions align with you and your firm.
 
Complete our 10-minute survey and tell us what you think about the issues we are prioritising in our advocacy work, and the services and resources we are developing to support you.
There are two ways to get involved:
---

The Law Society is calling for your help to support our campaign for the future of criminal legal aid. As you may know, the Government published its response to the Independent Review of Criminal Legal Aid (CLAIR) in March. The proposals fall far short of what is needed to secure the future of our criminal legal aid system, putting forward 40% less investment than CLAIR recommended.
 
We have included a campaign pack and are encouraging law societies to get in touch with their local MP to urge them to raise this critical issue in Parliament. We have attached a template letter that you can customize and send to your MP and have also included a campaign briefing outlining the issues with the Government's proposals. You can also see how badly affected your area is by the ageing of the solicitor profession here.

The Law Society will be responding to the Government's ongoing consultation and are encouraging all solicitors to put their views forward as well. You can respond here. The consultation will be open until 7 June 2022.  

After 25 years of cuts, our criminal justice system is in crisis. The Government must not miss this opportunity to put it on a stable footing and secure the future of criminal legal aid.
---
The Law Society's D&I Workstream; an update from our Head of D&I
Our Head of Diversity and Inclusion, Sally Brett, has provided an update earlier this month on what her team are presently working on and how law societies can get more involved with this work. The update has been drafted in the form of an article which you may wish to disseminate more widely to your members and can be viewed and downloaded
here
, or by clicking the link above.
One of the priorities we'd like to draw your attention to is a D&I Framework for member law firms. It is apparent there is a plethora of initiatives, activities, reports and recommendations that have come out in recent years and a lot of firms have told us they want a single place that brings all of it together and identifies the key steps they need to take embed change. We're holding focus groups in late May and June to provide feedback and help shape the framework. If you have D&I leads in firms in your area who would like to join one of the focus groups, they will be held virtually on the following days.
For medium or small firms (fewer than 50 partners):
Monday, 6th June – 2pm to 3.30pm
Thursday, 9th June – 2pm to 3.30pm
For large firms (50 or more partners):
Wednesday 26th May – 10am to 11.30am
Monday, 13th June – 2pm to 3.30pm
People can sign up by completing this
MS Form
, or by emailing
This email address is being protected from spambots. You need JavaScript enabled to view it.
. 
---
Don't miss out on the online peer support forum for local law societies' office holders, committee members and staff
To access, please log in via MyLS. You'll then see the green button 'Join the discussion'. If you don't see the button, this is likely due to the fact that you are not a practising solicitor. We have a solution for this! To give you access manually, please complete this form I am not registered with the SRA. How do I access the online peer support forum? (office.com)
---
MY LS
Please sign up to My LS to access tailored news, resources, events and books; it's free!
Event Recordings
Guides
Tools
Sections
Paid subscribers can also access exclusive content and updates on law firms management, risk & compliance, property and private client law.